English Language Learner (ELL) Program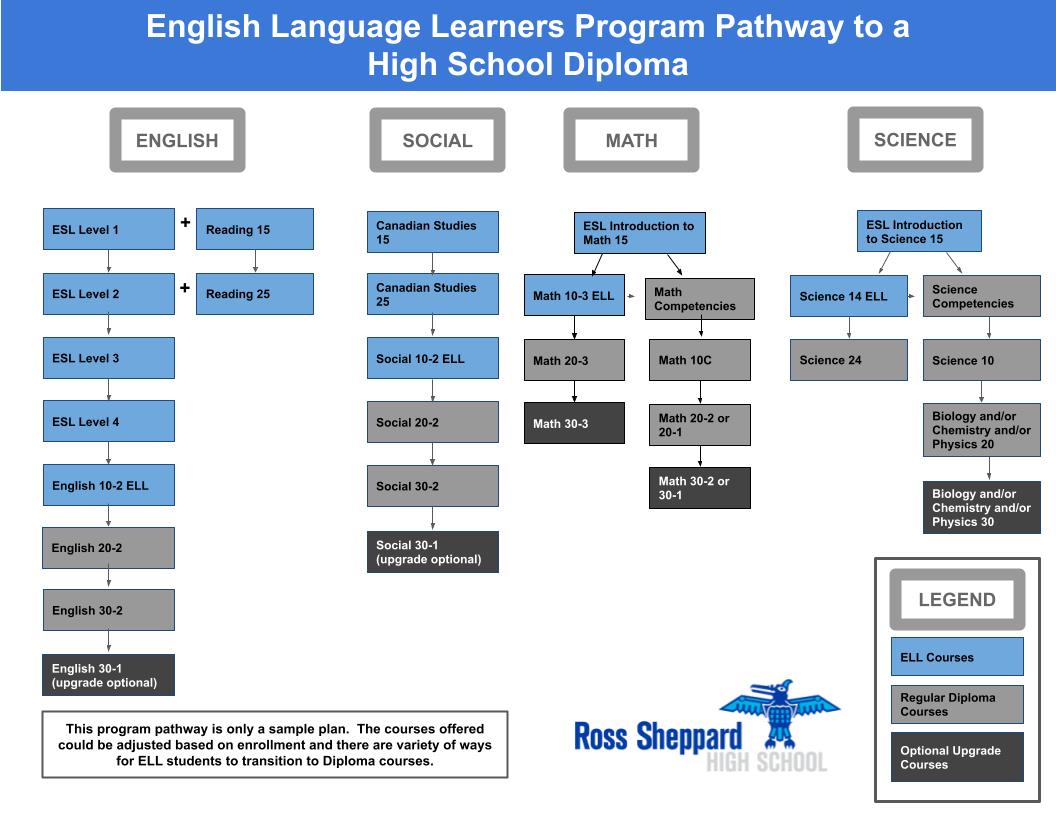 Ross Sheppard's English Language Learner (ELL) program is designed to support students who are new to Canada and working at the English as a Second Language (ESL) Benchmark Levels of 1 through 5. Students are placed in the appropriate ESL level where they practice their English language skills in reading, writing, speaking, and listening at a pace that allows for success at their ability level.
The core classes that students will study include foundations of Canadian society in Canadian Studies 15/ 25 where they will experience several field trips to explore various aspects of Canada. Math 15 ESL and Science 15 ESL build the foundations needed to excel in future courses. Finally, the Reading 15 class is designed to increase reading comprehension and writing ability, and support students in their other classes. Our goal is that every ELL student will feel fully supported in our program and will feel a part of the Shep community.
All of our ELL classes consist of an experienced ELL teacher and an Educational Assistant. We meet the students where they are and use technology, scaffolding, and create solid foundations in the English language to help students grow and succeed.
And finally, we have been working with Actions for Healthy Communities for over 5 years at Ross Sheppard and they have become a weekly fixture in our classrooms, allowing students the ability to engage in activities outside the classroom. AHC has recently started running a weekly after school club for the Empowerment of BIPOC Girls. We are beyond excited to start this program here at Ross Sheppard for the first time and welcome all new members.
The following link is for students looking to increase their English language proficiency. This website of ELL resources will help you find links to improve your reading comprehension, grammar, vocabulary, oral practice and writing.
Resources:
ESL Benchmarks Division Levels Summary Gr 10-12