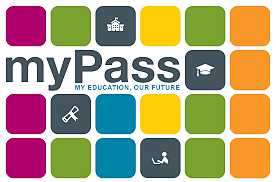 myPass Alberta Education Information
myPass is a secure self-service website for Alberta high school students to access their education information. It is important to sign up before you graduate as there is a wide variety of information that you can access down the road.
* It is recommended that you choose a personal email address when you sign up as your EPSB share account is deactivated when you graduate.
Use myPass to:
Order transcripts
Register for diploma exams
View diploma exam results
View progress towards a credential (diploma or certificate)
View student personal information
View and print detailed academic reports (DAR)
Order additional copies of a credential
Before you create your myPass account you need to "link" yourself to our school.
To "link-up" please follow one of these steps:
Pop by Student Services and see the staff member at the reception desk to have your personal email address added to Alberta Education. You will then receive instructions on how to activate your account.

Or send an email to Student Services following these steps:


Subject line to read: myPass account
Send your first and last name, your Alberta Student Number (ASN found on your ID card) & your personal email address
Once completed you will get a reply with instructions
myPass Student Access - To access myPAss you need to have:
An Alberta Student Number (ASN)
A personal email address
Date of Birth
Go to

myPass.alberta.ca
Set up an Education Account,

sign in with your email address and follow the instructions

Enter your Alberta Student Number and date of birth
You will receive an email from Alberta Education with further instructions
Third parties (including parents and legal guardians) may be granted access to a student's myPass account online.
To access your student's myPass account:
Go to myPass.alberta.ca.
Set up an Education Account, or sign in with your social media login.
Enter the student's Alberta Student Number and date of birth
You will receive an email with further instructions
For assistance with myPass, please call their Help Desk at 780-427-5318.